Rent a Car at Cancun
International Airport (CUN)
Carretera Cancun-Chetumal KM 22 Cancun, Quintana Roo, Mexico
http://www.cancun-airport.com
About Cancun International Airport
Cancún International Airport is the most important airport in Mexico and Latin America in terms of international tourism. It's located in the Yucatán Peninsula 10 miles from Cancún and around 18 million travelers pass through it's terminals each year on their way to different destinations around the world.
Cancún International Airport covers 26 square miles and has 2 runways and 3 passenger terminals. Terminal 1 has 7 boarding gates, Terminal 2 has 31 gates, and Terminal 3 has 16. The three terminals are connected by a courtesy shuttle bus.
Cancún International Airport offers various money change services, cash machines, free WIFI, bars, restaurants, Duty Free Shops, a spa, medical services, and beauty salons. There's also parking at each terminal, open 24 hours a day.
Renting a Car at the Cancun Airport
The principal car rental companies have their desks in Terminal 3, such as Alamo, Avis, Budget, Europcar, Dollar, Hertz, National, and Thrifty.
Renting a car is a good idea in Cancún since doing so makes it easy and comfortable to see the whole city. Especially if you'll be there for only a few days, a rental car will allow you to make the most of your stay. Many tourist points are difficult to reach using public transportation and with a car you can go to malls and shopping areas no matter where they are located.
It is important to remember that the best rental rates are achieved by booking a vehicle in advance with online promotions that sites like RentingCarz can offer. Once you have made your reservation online, you just have to submit the voucher with the confirmation number at the counter of the Car Rental Company, along with your driver's license and a credit card in the holder's name.
How to Leave the Airport in a Rental Car
Cancún International Airport is located on the Cancún-Chetumal Highway at Km 22 Benito Juárez, about 20 minutes from the hotel section of Cancún and about 40 minutes from Playa del Carmen, and about 120 minutes from Tulum.
To leave the airport in your rented car going towards the hotel section of Cancún you just take the principal exit and follow signs to Bulevar Kukulcán which will take you to your destination. Driving a rental car in and around Cancún is easy, however it's even better if you rent a car already equipped with GPS in your language.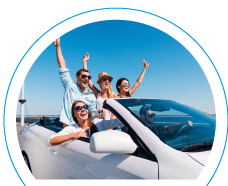 Near Cities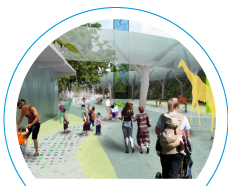 Near Attractions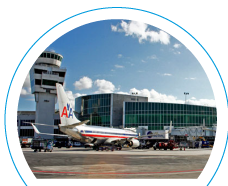 Other Airports in the area
International Airport of Mexico City