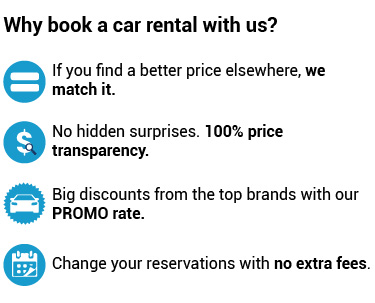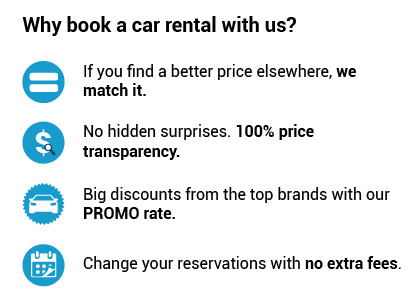 Find the best prices on your favorite rental brands

Terms and Conditions
Published October 18, 2021
Access to and use by users (the "User" or "Users") of the https://www.rentingcarz.com/en/kayakday2021-uk/ landing page (hereinafter, the "Landing Page") owned by LatinCarz, LLC. DBA RentingCarz Holdings ("RentingCarz"), shall be governed by the following terms and conditions:
Promotion up to 10% discount: Valid for reservations to any destination, made from October 18 to October 22, 2021, with pick-up date from October 18, 2021 to April 30, 2022. Applies only to prepaid rates, originating in the UK to destinations anywhere in the world. Not combinable with other promotions.
General: By accessing this Landing Page, users ("users" or "you") fully agree to be legally bound without limitation, qualification or change and to abide by these terms and conditions, which will constitute the agreement between you and LatinCarz, LLC. RentingCarz reserves the right to make, at any time and without prior notice, modifications to the information contained in this Landing Page, as well as to its terms and conditions. Any changes made will be of immediate effect as soon as they are incorporated in this Landing Page.
Limitations of liability:
- Promotions are exclusive for rentals made through this Landing Page. - Reservations with promotional prices do not oblige RentingCarz to maintain the values for periods longer than those described in the reservation. - RentingCarz will not be obliged to maintain the promotional prices in case of changes to the reservation dates (pick-up or drop-off), to the chosen car category or to the chosen pick-up office. - The availability of the reserved car will be subject to the inventory availability of each company according to destination and/or office. - Promotions available in this Landing Page cannot be accumulated with other discounts.