Rent a Car at Los Angeles
International Airport (LAX)
About Los Angeles International Airport
The Los Angeles International Airport known as LAX is located 27 kilometers (17 miles) from the city center. It is the fifth busiest airport in the world. 60 million people and 2,000 tons of cargo pass through LAX each year. It covers 87 domestic destinations and 69 international, and it is the third busiest airport in the US; and the second, considering international passengers, after John F. Kennedy International Airport. The Los Angeles International Airport has nine passenger terminals distributed in a horseshoe, 112 gates, 186,000 square meters (2,000,000 square feet) of cargo facilities and heliport.
The Los Angeles International Airport offers a wide variety of services such as restaurants, cafes, duty free shops, offices currency exchange at its terminals, free WIFI connection, charging stations free for mobile devices, meeting rooms, and parking with over 8,000 spaces available.
Renting a Car at Los Angeles Airport
Over 40 car rental companies operate in The Los Angeles International Airport, among which are Alamo, Avis, Budget, Dollar, Hertz, National and Thrifty. These are found in branches located on the outside the airport. You can contact them with the phone courtesy located in the baggage area.
It is important to know that the best rental rates are achieved by renting in advance with the promotions usually offered online, with sites like RentingCarz. Once you have made the online booking, you just have to pick up the car in the car rental branch located next to Parking C.
Leaving the Airport with a Rental Car
LAX Airport is located off of the Pacific Coast Highway (Highway 1) and Highway 42, near the intersection of highways 405 and 105. Highway 1 is just north of the airport, and Sepulveda Boulevard just south. Maneuvering yourself on Los Angeles highways is not an easy task because they are known to be some of the most complex traffic zones in the U.S. In order to travel through the city without stress and enjoy your journey, you should hire a rental car with a GPS in your language and all insurance included.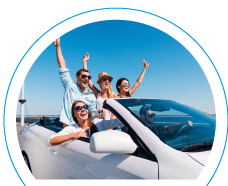 Near Cities
Los Angeles
San Diego
San Francisco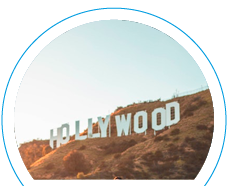 Near Attractions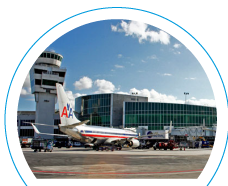 Other Airports in the Area
San Diego International Airport
San Francisco International Airport