Rent a Car at San Diego
International Airport (SAN)
3225 N Harbor Dr, San Diego, CA 92101
http://www.san.org
About San Diego International Airport
The San Diego International Airport (www.san.org/), known as Lindbergh Field, is located 3 miles West of the business district in San Diego, California. About 18 million passengers, from the United States and around the world, travel through its terminals annually.
The San Diego International Airport covers an area of 1633 acres, has a single runway (the second busiest in the world) and three passenger terminals. Terminal 1 has 19 gates, Terminal 2 has 32 gates, where all of the international arrivals are. The Commuter Terminal for short flights, has 4 gates, numbered 1 through 4.
The San Diego International Airport offers passengers services including currency exchange, ATM, Wi-Fi, bars, restaurants, shops and news-stands. The airport also offers free transportation called the Red Bus, which facilitates traveling between terminals for passengers. The San Diego Airport also has a parking lot at each terminal.
Renting a car at the San Diego Airport
In The San Diego Airport there are courtesy phones to communicate with the car rental companies and a shuttle service that takes passengers to the airport branches. Some companies you will find are Alamo, Avis, Dollar, Budget, Hertz, National and Thrifty, among others.
It is important to know that you can get the best rates by pre-booking a vehicle through promotions that online sites, such as RentingCarz, usually offer. Once you have made the online booking, you just have to present the voucher with the confirmation number of the reservation at the counter, along with your driver's license and a credit card under the name on the reservation.
Exiting The Airport in a Rental Car
Leaving The San Diego Airport on Interstate Highway 5 with a rental car is relatively simple. There are four major interstate highways passing through San Diego: Interstate 8, which goes to Arizona; the 5, which reaches Los Angeles; the 805 and the 15. There are also six state highways that cross over San Diego. The city highways have less traffic than other cities highways in California, so renting a car in San Diego is a very convenient way to get around in order to maximize your time and take advantage of your stay in the city. Remember, it is always advisable to rent a rental car with a GPS in your language and all insurance included.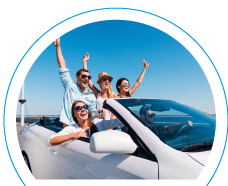 Near Cities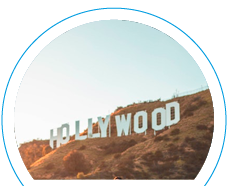 Near Attractions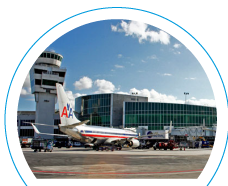 Other Airports in the Area
Los Angeles International Airport
San Francisco International Airport