3400 E Sky Harbor Blvd, Phoenix, AZ 85034
http://phxskyharbor.com
Phoenix International Airport Car Rentals
The Phoenix International Airport phxskyharbor.com is the busiest in Arizona, the largest commercial airport in the Southwestern United States and one of the 15 busiest in the world. It is located 3 miles South of the business district in Phoenix, and about 41 million passengers pass through its terminals each year; landing, connecting, or taking off from domestic to international flights.
The Phoenix International Airport (PHX) has an area of 3,000 acres, with three runways and three passenger terminals. Terminal 2 has a waiting area and 9 gates, Terminal 3 has 17 gates distributed throughout two different waiting areas, and Terninal 4 has seven sections of waiting areas and 90 boarding gates distributed throughout. A courtesy bus connects each terminal, and also the economy parking sector (West and East).
The Phoenix International Airport phxskyharbor.com offers many services including ATM machines, restaurants, cafes, shops, pharmacies, first aid service, post offices and business centers with Wi-Fi internet connection, and more. It also has short and long term parking, with around 30,000 parking spots.
How to rent a car in The Phoenix International Airport
The Phoenix International Airport phxskyharbor.comoffers car rental services from major companies such as Alamo, National, Avis, Budget, Dollar, Thrifty, Hertz, etc. The Car Rental Center is located outside the terminals, in 1805 East Sky Harbor Circle South, between 16 and 24. There is free bus transfer to the area.
It is important to remember that the best rental rates are achieved by booking a vehicle in advance with online promotions that sites like RentingCarz can offer. Once you have made your reservation online, you just have to submit the voucher with the confirmation number at the counter of the Car Rental Company, along with your driver's license and a credit card in the holder's name.
Exiting the Airport with a Rental Car
Leaving the Phoenix International Airport with a rental car and getting into the city of Phoenix, is quite simple. First head towards E Sky Harbor Blvd, keep left at the fork and follow signs to Downtown / I-10 W / AZ - 51 / phoenix and move to I -10 W. Then take Papago Fwy, followed by Interstate 10 Frontage Rd., and then turn left onto E Washington St. The drive takes about 14 minutes with normal traffic.
Renting a car in Phoenix is a good idea, because it allows you to move freely around the city. For those who also want to maximize their stay in Arizona, free of stress, it is advisable to get a rental car with a GPS in your language and all insurance included.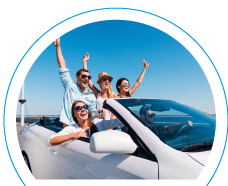 Near Cities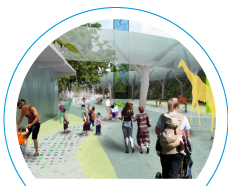 Near Attractions
Coming soon...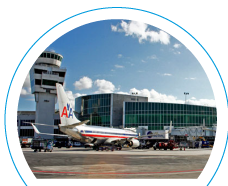 Other Airports in the Area
San Diego International Airport
Los Angeles International Airport
Las Vegas International Airport